Image credit:  George Audas.  Please contact Kennet Radio for permission to use this image.  
Kennet Radio's 'Ray of Hope' spotlights are at Newbury Racecourse from Thursday.
The 'Ray of Hope' spotlights will be visible in the night sky across Newbury and Thatcham every Thursday between 6pm and 8pm, starting on Thursday 21st January.  The beams of light highlight the hope brought to local residents by the new vaccination centre at Newbury Racecourse and to encourage the local community to donate to raise money to buy laptops for disadvantaged local schoolchildren.
The recent launch of the vaccination centre at Newbury Racecourse brings a much-needed ray of hope to residents in West Berkshire.  It also reminds us that there are thousands of local children who face having to complete their lessons online at home for many weeks to come.
Laptops for Lockdown Learning
Greenham Trust's "Laptops for Lockdown Learning" appeal aims to give every disadvantaged local child a laptop to help them learn under lockdown. Greenham Trust will match up to £250,000 of donations made to the appeal.  Every £1 donated will be matched by the Trust, raising £500,000 to help schools buy laptops for disadvantaged children to use at home.
"The COVID-19 pandemic has shone a stark light on the gap in provision for families in lockdown, especially those with school-age children who do not have the devices they need to learn at home and we must make sure this gap doesn't continue to grow", said Chris Boulton, who is both CEO of Greenham Trust and a volunteer presenter with Kennet Radio.
"We believe that the charitable sector and local communities have a role to play to ensure that disadvantaged children do not fall through the cracks when it comes to receiving education during these difficult times."
Kennet Radio has been the driving force behind 'Ray of Hope'.  "Kennet Radio is very grateful to everyone (including Newbury Racecourse, Greenham Trust and Top Marque Events Ltd ) that have got behind this campaign and allowed the lights to be installed in the vaccination centre car park to raise hope and charitable donations for the local community" said Kennet Radio volunteer Graham Pocock, who conceived the Ray of Hope.
"Please donate as generously as you can to 'Laptops for Lockdown Learning' so that the Ray of Hope campaign can have a lasting positive impact on the lives of our young people."  
Kennet Radio will be broadcasting regular updates about the 'Ray of Hope' campaign on air, with presenter Paul Walter featuring a weekly update on the Friday Breakfast Show, including interviews with the organiser, Kennet Radio's Graham Pocock, and representatives from the Greenham Trust and The Good Exchange.
Harriet Collins, Marketing Director for Newbury Racecourse added: "This is an inspiring initiative by the Kennet Radio team and a very worthy cause in the Laptops for Lockdown Learning launched by Greenham Trust which the racecourse is fully supportive of. 
"We hope many will see the beams of light on a Thursday night from the racecourse and not only feel compelled to donate but also see this as sign of hope."
IMPORTANT:  Please enjoy the display on Thursday from the comfort of your own home or during planned exercise and in accordance with government guidance and regulations – do not travel towards the vaccination centre to watch it.
Donate
If you would like to donate now to Greenham Trust's Laptops for Lockdown Learning appeal to celebrate the Kennet Radio Ray of Hope, please click on www.rayofhope.uk.  Every little helps – and every pound donated will be matched by Greenham Trust.
Credits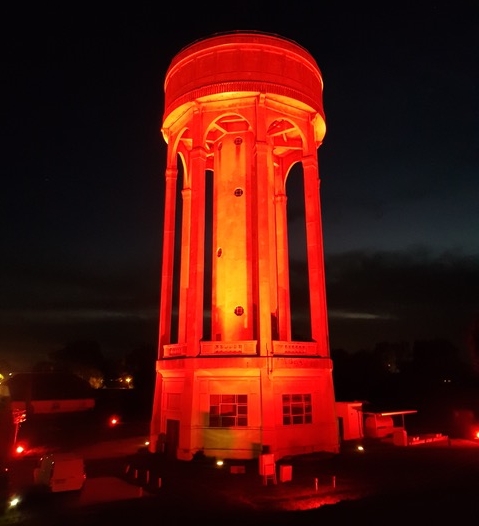 The Ray of Hope initiative was conceived and launched by Kennet Radio volunteer Graham Pocock.  Graham is also co-owner of Top Marque Events, a Newbury-based events company providing high-end lighting.
Thank you to Richard Alexander for providing the Ray of Hope spotlights. Richard's high-powered searchlights have been used to Illuminate the giant water tower in Caversham for Armistice Day 2018 and recently he turned Highclere Castle pink.
Kennet Radio is very grateful to Newbury Racecourse and Greenham Trust and The Good Exchange for their help and support.