After a long-running battle and campaign, Newbury FC may well have to settle for playing their home matches at Henwick in Thatcham.
Newbury FC were "evicted" from their Faraday Road ground over 2 years ago and have been looking for a suitable replacement ever since. 
Their original home ground is part of the ongoing redevelopment plans for the Faraday Road industrial area, it has sat empty and derelict for over 2 years now.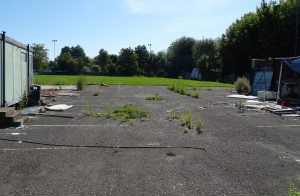 Various alternative grounds were suggested as a replacement, including Northcroft Park and Pigeons Farm, but neither were deemed suitable.
Upon leaving Faraday Road, the club initially moved to Brimpton for their first season, before the move to Henwick Worthy Sports Ground in Thatcham, which is already home to both Thatcham Rugby Club as well as Thatcham Hockey Club. As a result of their move, the club has been forced to play in a lower league.
Newbury Community Football Group was set up to challenge the decisions as well as to publicise the issues that the club are facing. 
A spokesperson for Newbury Community Football Group recently said:
It is a total dereliction of duty. The Council has a duty to rectify this. We are urging Councillor Woolaston, as portfolio lead for Health & Wellbeing, to work with all parties to get a sensible way forward
Kennet Radio sport has been following this story since the beginning and will of course bring you all the latest updates as and when they happen.
In the meantime, the club are appealing for new & existing players to come along to pre-season training on Saturday 25th July from 10am.