Half marathon success for 118 Malc
At 9.00am this morning (Monday 20th July), Malcolm Hannington, along with his running partner Sarah Moule, set off from his home in Thatcham to run a half marathon around Thatcham.
This was no ordinary half marathon, as this was Malcolm's 70th birthday and the run was raising money for Newbury Cancer Care.
The run took in two laps of Thatcham, as well as a double lap of honour around Thatcham Lakes.  Along  the way, Malc and Sarah had encouragement tooted to them by cars as they ran.  There was no mistaking Malc, dressed as he was in his "118" outfit.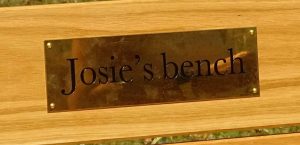 Weather conditions were excellent and the pair made great time (2 hrs 25 mins), they were greeted by family, friends & well-wishers at Josie's bench.
Josie was Malc's wife, who sadly lost her battle with cancer on Christmas Eve last year, Malc wanted to do something to give back to the staff that made her final weeks more comfortable. Having already donated an inscribed oak bench at Thatcham Lakes, Malc, a keen runner decided on the charitable endeavour. 
As of this morning, the Just Giving page set up in her memory had already topped £2,500, with promises of more donations still to come.
Kennet Radio's Steve Prout, a friend of Malcolm's was there to see the run:
There was a good crowd at Malcolm's house this morning, lots of well-wishers to send him and Sarah on their way. The first lap was completed in just over 50 mins, they looked refreshed at the halfway point.
When they arrived at the lake they were greeted by a sea of friendly faces, as family, friends & members of of the public all gathered to cheer them on.
Malcolm made a very emotional speech, in which he thanked all those who had supported Josie and him over the past few years.  He then gave a hint that there were more charity events in the pipeline.
You can still donate: https://www.justgiving.com/fundraising/malcolms-marathon