Greenham Trust announces first Golden Ticket Winner
Greenham Trust awarded its first Golden Ticket at Pitch to the Panel at Newbury Corn Exchange on 8 May. All members of the audience were entered into a prize draw to win £5000 to award to a local charitable project. At the end of the evening one ticket was drawn at random and the lucky winner was Newbury resident and co-founder of Children First International, Colin Mansell.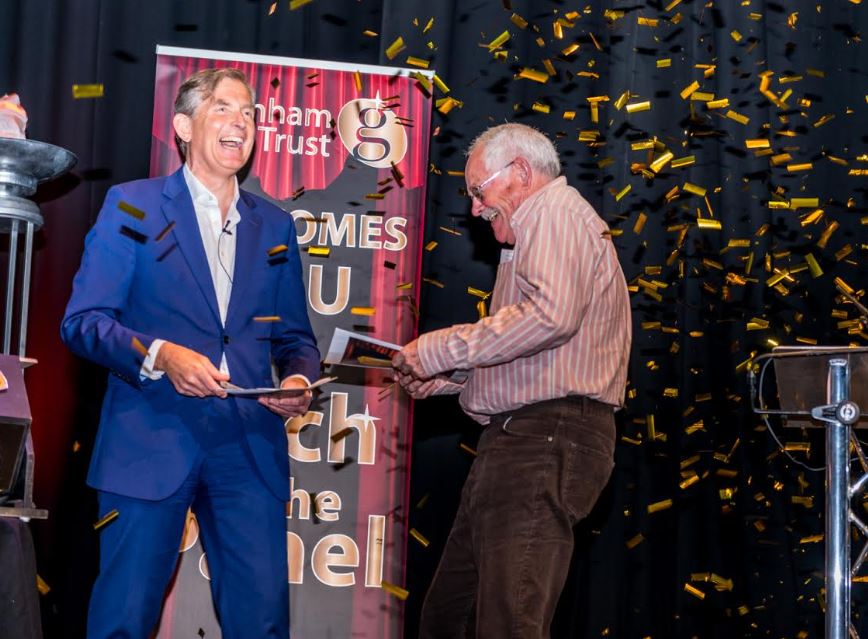 Colin then faced the difficult task of deciding how to allocate the £5000 – but after a few days deliberation and researching of projects on the Good Exchange, Colin decided to award the £5000 to Friends of Castle School towards their Outdoor Sports Track Project.
Colin said: "I was delighted to be the winner of the inaugural golden ticket and to be in a position to award a large sum of money to a local charitable project. Having spent time doing some research I found that the project I voted for on the night ticked all the boxes and I am therefore delighted to award the full £5000 to the Castle School."
Jon Hewitt, Headteacher of Castle School, said ""We were so surprised and delighted by the really kind gesture by the Golden Ticket Winner, Colin Mansell to donate the whole £5,000 to the Friends of Castle School project which is to build an outdoor sports track for the 167 children at the school who have complex learning difficulties. We are edging ever closer to our target and hope that we soon will have the track in action.  A big thank you to Colin for his generosity and for helping us to achieve our goal."

Chris Boulton, Chief Executive of Greenham Trust said "We are delighted to introduce this new initiative to involve the local community in making a personal impact on a charity of their choice. We ensure that our donations benefit local projects, and we are delighted that Colin has chosen Friends of
Castle School who made a successful bid at Pitch to the Panel and this additional funding will help make the project become a reality."

Greenham Trust's next Golden Ticket will be awarded at the D-Day 75 anniversary event taking place at 101 Arts Centre on Greenham Business Park on 4 and 5 June. For more information please visit: https://greenhamtrust.com/d-day-75