Veteran Greenham Campaigner and Councillor has died
Main photo credit:  Rob Appleby
Veteran Greenham campaigner and long-serving councillor Audrey Appleby died last Monday at Winchcombe Care Home in Newbury .
For decades, Mrs Appleby was a familiar figure in Greenham, representing the parish on West Berkshire District Council, and its predecessor Newbury District Council, until 2000.
At the same time, Mrs Appleby was also an active member of Greenham Parish Council. When she stepped down from the District Council 20 years ago she became Chair of the Parish Council. She continued as Chair and then Vice Chair of Greenham Parish Council until 2009, when she eventually retired from local politics.
Restoration of Greenham Common
Following her election to Newbury District Council in May 1991, Mrs Appleby was an active part of the group that oversaw the return of Greenham Common to the public from its cold war use as a US air base and promoted the Greenham and Crookham Commons Act 2002.

At the time there were suggestions that the disused former US airbase could be used for housing or for a fourth London airport. The Act of Parliament has ensured that the Commons are protected from such development.
The current Vice Chairman of Greenham Parish Council, Councillor Julian Swift-Hook, took over from Mrs Appleby as West Berkshire Council Member for Greenham in 2000, and served with Mrs Appleby on Greenham Parish Council.
"Audrey was the driving force behind many Greenham projects at the time, and she was an inspiration to me as a new councillor at the time," said Councillor Swift-Hook.
Audrey was a powerhouse. She was a tireless campaigner for Greenham, she inspired support from all sides of the political spectrum and none, and she will be sadly missed.

The dedication of Audrey's Meadow was a fitting tribute and a lasting legacy for a great and respected community activist.
Audrey's Meadow
In 2011, a meadow and woodland area to the east of Lamtarra Way was adopted as public open space and named Audrey's Meadow in recognition of Mrs Appleby's commitment to Greenham and to Greenham Common.
The following year, Audrey's Meadow was brought under the protection of the very Act that Mrs Appleby helped to promote a decade earlier. It now enjoys protection in perpetuity as part of Greenham Common.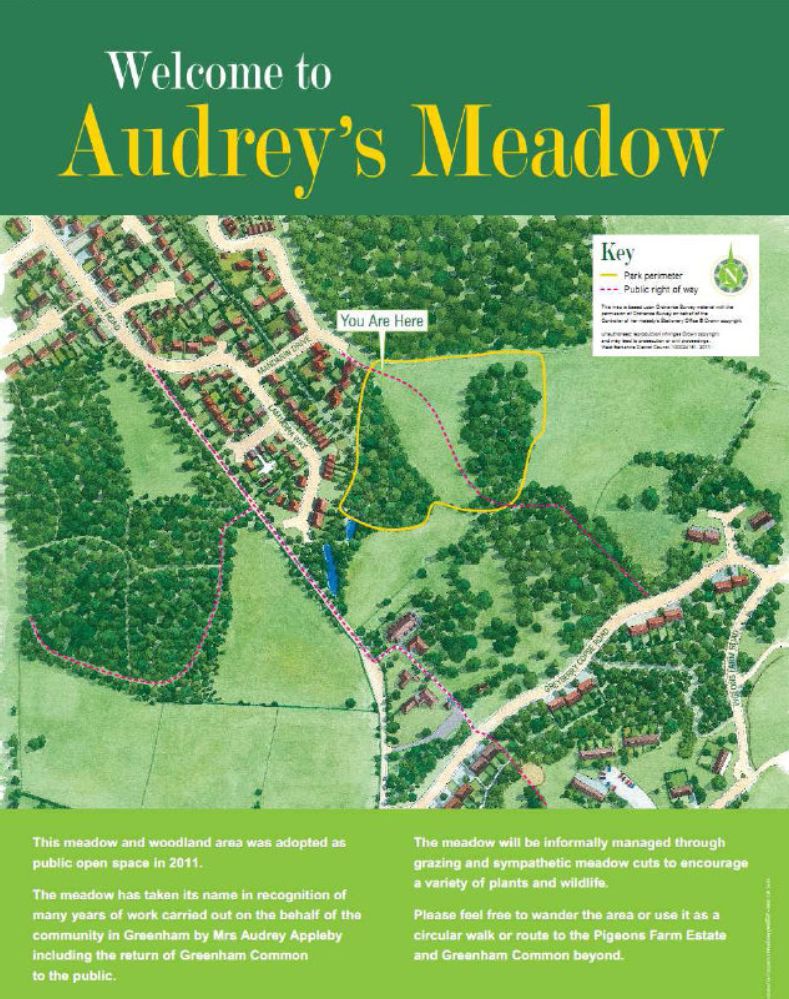 Funeral
In line with the current coronavirus restrictions, only close family members may attend the funeral service on 18th May at St Marys Church, Greenham.
Donations
The family has asked for family flowers only, and that if people would like to send a tribute that they do so in the form of a donation to one of the three charities that were dear to Mrs Appleby. 
To donate online to BBOWT, click here.
To donate online to Dogs Trust, click here.
To donate online to the RSPCA, click here.
Memorial
A memorial service to celebrate the life of Audrey Appleby will be held later in the year once the current restrictions on public gatherings are lifted.