Still fighting to save football ground
It has now been 2 years since the decision was made to shut the Faraday Road Football Ground, an action that saw Newbury FC made homeless at a time when grass roots football needs help rather than obstacles.
Newbury Community Football Group was set up to challenge the decision as well as to make the wider public aware of the situation regarding Faraday Road. They have since put in an application to redevelop the ground themselves, their application is still running and is about to be re-submitted. They found themselves having to put in an appeal to the Secretary of State.
In a strange twist of fate, the council, voted unanimously to support the application at which point the Planning Officer informed them that they had to re-submit the application to move the boundary by 1m, which they are now diligently doing, complete with a detailed Ecology report.
In October 2016, Newbury Community Football Group succeeded in getting the Faraday Road football pitch and associated facilities listed by West Berkshire Council as an Asset of Community Value. 
The 24th June is the 2 year anniversary of when West Berks Council closed the ground, which has been left to go to ruin and sit empty ever since.
At the same point in time, West Berks Council also promised to re-open the ground to the public "soon"
The ground also suffered a fire just over 1 year ago too, when a fire started in an outbuilding.
Below is what it was vs what it looks like today: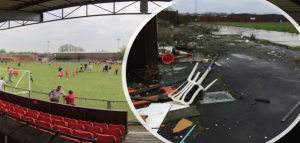 Newbury Community Football Group are still working tirelessly in the hope of bringing football back to Newbury once more, their online petition has already gathered 1965 signatures, they also have a Twitter & Facebook account. To find out more, click on the link below:
Newbury Community Football Group, Newbury, Berkshire. 88 likes · 193 talking about this. In late 2015, after West Berkshire Council's decision to close Newbury's only community football ground,…